If you have ever stayed at Tres Rios RV Resort, you definitely have met this dynamic team member. You may have slipped down chocolate slip-n-slides during Willie Wonka Weekend, danced at her 80's Prom Party, learned how to cook during one of her cooking classes, or ridden on a unicorn with her. After Angelica Smith started working for us, it didn't take long for members to start responding with how great she is with the whole family.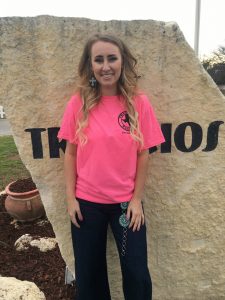 Born and raised in Glen Rose, Tx, Angelica is a true hometown native. Growing up, she enjoyed catching frogs, hunting, and building forts. In high school she was showing cows in FFA, running track, and following a passion of competing in rodeos.
After high school Angelica wanted to become a marine biologist and furthered her studies at Tarrant County College. However, the City of Glen Rose ended up having a larger attraction than the ocean, so she turned her attention back to a previous passion and competed in rodeo competitions throughout the south. Along with rodeo competitions, she also became an event coordinator specializing in large corporate events and retreats within the Dallas/Fort Worth area.
She continued to travel with the rodeo until her children, Wesson and Tynlee, started school. Wanting to build a little more social interaction in her life, she began looking for another career. After seeing a job posting for an activities coordinator with Tres Rios, she thought to herself, "What could be better than working somewhere where I grew up?" The more she thought about it, she began to realize how fun it would be to be around happy people, enjoying vacation. So she applied, interviewed and was hired! She has now been with the company for 2 years and is doing a fantastic job! If you were to ask her what her favorite part of her job is, she would tell you that she enjoys decorating for all the events and watching people make lifetime memories with their families!
As an adult Angelica still enjoys rodeos. Some of her other hobbies include fishing and drawing. In the summertime you are sure to find her out and about with the children, still building forts, playing games, doing crafts, and catching frogs! Every year, the city of Glen Rose enjoys a huge firework display, which Angelica started for the town during her employment with the Glen Rose Chamber of Commerce.
We are very proud to have Angelica as part of our Ocean Canyon Properties team! Always smiling and full of energy, she serves her hometown of Glen Rose proudly!