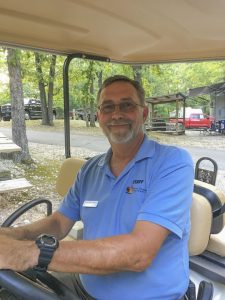 In the Summer of 2011, Mike rushed to a house where the man had just collapsed with a heart attack. He, and a couple of other paramedics got there in a moment's notice, strapped the man to a stretcher and sped off towards the hospital. On the other side of the two-lane highway was a driver who was distracted by his cell phone. As Mike was rushing to the hospital, this other driver began veering out of his lane.
Traffic had pulled over on the right shoulder giving way to the speeding ambulance. Mike had no place to go. On July 8th in 2011, one dump truck driver looked up a little too late, locked his wheels and braced for impact. And one speeding ambulance, with sirens blaring and lights beaming, collides head-on with a 32-ton beast of a vehicle.
Was it a miracle that Mike was still alive? Or was it a miracle that there happened to be another ambulance just 2 miles behind him? What defines a man is not how he acts but how he reacts to life. It's going to take more than strength and resilience to pull him through this.
Mike Albright was born in Maryland and raised on Long Island, New York. Around his 6th grade year, his family moved from a city with 6,000,000 people to Macks Creek, Missouri, population 125. During his 10th grade year, they moved one more time just west to Halltown where he would spend the next 20, 30, or 40 years depending on who you ask.
He actually did leave Halltown for 3 years when he joined the Air Force and flew off to the frontlines of the Cold War. He was stationed at Elmendorf Air Force Base in Anchorage Alaska for the next 3 years. In 1987, after returning to Halltown, he follows his next career as
a EMS and first responder. Seven years later, he meets a beautiful young lady in one of his first responders class. Meeting Amy was love at first site.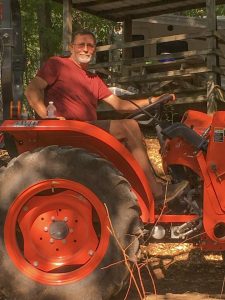 Getting cut out of an EMS after colliding with a dump truck wasn't his first experience with a major incident. In 2000, he was working for Fire Master, where they refueled scuba tanks for local divers and first responders. He was tasked to refueling the main compressors following a four-stage filtration system. In the second stage, the water separator exploded and shot a piece of shrapnel, about the size of a grapefruit, hitting his right arm separating it at the elbow. After a 12-hour surgery, doctors were able to reattach his limb.
In 2002, he was diagnosed with Nodular Malignant Melanoma cancer and spent the next year in and out of chemo treatments.
On a cool July afternoon, Mike was pushing the gas pedal of his ambulance with two other paramedics and one patient who collapsed from a heart attack. Barreling down the highway, he collides with a dump truck crushing the inside cab like an empty soda can. The highway became a pile of smashed glass, mangled metal, and burnt rubber. It took an hour for the ambulance that was right behind him, along with the local fire department, to cut him out of that deformed cab. To this day, he only remembers being awake long enough to give someone his wife's phone number.
Out of this wreck came a determination to live.
It would take 4 days and the prayers of many before Mike would awake. And it would take a few more days to discover what all was wrong. He had a traumatic brain injury, broken pelvis, broken elbow, broken wrist, broken ankle, and 8 broken ribs. Plus, the wreck degloved his left arm, lacerated his spleen and liver, and punctured his lung. Through all this, he turned it over to God.
The first mountain to climb was to walk 75 feet. This was the distance the doctors told him to walk before he could leave the hospital. Seventy-five feet seems a short distance to walk but seemed like a mile at first. From that hospital room he found that strength to stand back on his own 2 feet and walk through the pain. In only 8 days he was able to walk that 75 feet. Once he got out of the hospital, his recovery would be long from over.
It seems that his entire life has been around helping other people. Whether it was his time in the military or his life work as a first responder, he was always there to help other people. Now it was those other people who would be there to help him.
Every day was a fresh new day, and as long as God was allowing him to live, he wouldn't take it for granted. This is why he would work the next 3 years to relearn how to walk instead of giving up. He would persevere through the pain and push through physical therapy every day for the next 3 months, then 3 days a week, then every day again.
With his personal determination, the encouragement of his friends and family members, he was finally able to get back to what he loves the most – being there for others.
Over the course of the next 3 years, he had to relearn how to walk. Behind him was the strength and the encouragement of his family. When asked how anyone can make it through this all, he said to "Turn it over to God. He will get you through it. You may not know how or why, but He will."
If you were to ask those who work with him how they describe him, you would expect to hear something depressing with all that he has gone through. Yet you don't. They describe him as caring; Friendly; Helpful; Goes beyond. "He's never turned down anyone who needs help. Whether he's on the clock or not. If he's on the park, he goes out of his way to help people."
He has a new meaning of life. "Don't take the little things for granted. Live every minute like it's the last. Cherish the moments because you're not guaranteed tomorrow."
Today, Mike and his wife Amy have 5 kids and 9 grandkids. They enjoy full-time RVing and helping-out around Branson Ridge. You may find him running a tractor fixing the roads or hear him behind a chainsaw. Since 2015, he's been a great asset to Ocean Canyon and has been a favorite face to all our members.
If you were to ask him what he retired from you'll hear him say "Well I kind of got retired by a dump truck".