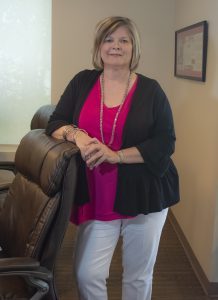 Helpful, dedicated, happy, sweet, warm… are just a few words to describe her. Sherry is like the mother of the company. Although she does a lot of things, it's the little consistent things that make our life a little better. She takes great care of us!
Sherry Martin grew up in Maud, Texas back in the 70's when milk was still being delivered to the house, TV only had 10 channels, and kids could safely roam the town on their bikes. I'm sure that being the daughter of the Chief of Police kept her safe too!
Sherry, who later became a Quaid, enjoyed high school the best. Her only job was to make good grades, respect her elders, do her chores, and treat others as she wanted to be treated. She still lives this way today but now with bills.
After high school, her job took her to Mount Pleasant, Texas to North Texas Community College, where she enrolled in a couple classes. Shortly after, she got married and her primary focus became her home and her babies.
Ms. Sherry has a daughter Jennifer, and son Tony, as well as, a bonus daughter, his sweet wife Katie. She also has 4 grandchildren, Trey (16), who excels in theater, Ally (14), the only granddaughter and trumpeter, who has self-proclaimed to be the favorite granddaughter, Payton (12), whom loves to sing and has a heart of gold, and Preston (6) who plays the piano. Although Sherry won't comment on Ally's statement, she does respond with, "Well, she is the only girl!" She is truly very proud of her family, she adds "I don't know why God loves and has blessed me so! But He did and He does! He Loves Us All!"
In earlier years, Sherry spent her days cheerleading for her high school. Today, you might find her on a cruise ship (she's been on 5 in the last few years), or possibly hitting a few garage sales on Saturday mornings. She claims that she garage sales for the exercise, but laughs as she says, "another man's trash is another man's treasure, so they say!"
Sherry also loves music. It has always been a very important part of her life. Music can mean so many different things to us, it can make you think of the past or inspire you to think of the future. Ms. Sherry adds, "To me, music makes my heart smile," which is a good reason why she is a avid watcher of "The Voice."
Sherry moved to Texarkana in 2010. At the time, her cousin was working for the company and encouraged her to apply. Soon, she interviewed with Mike, was employed, and has been working here for eight years now. She started when Ocean Canyon only had 5 resorts and has watched it grow ever since! Her favorite part of her position is helping people. And, that certainly resonates with all of us here. She is truly the glue that holds us all together and we are proud to be part of her OCP Family!